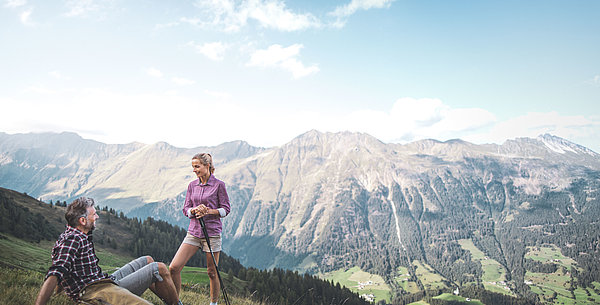 All You Need to Know, at a Glance
Information about holidays in Ridanna
Here you will find everything you need to know about cancellations, pet policy, general information and…a few little surprises for special occasions. Get ready for a pampering holiday in Ridanna!
General Information
Since January 1, 2014, a tourist tax is levied by the local authorities. The revenues are used for the expansion and maintenance of existing infrastructures and services, as well as for the organization of cultural and sports events. Charges are differentiated based on hotel category; for 4-star accommodation facilities, the tourist tax amounts to 2.10 € (from 01.01.2024 2.50 €) per person/night. Children under the age of 14 are exempt. The tourist tax is payable upon departure and is indicated as a separate item on the hotel invoice.
All rates are per person and per night including the 3/4 gourmet board and all the Taljörgele complimentary services.
Discount for bed & breakfast arrangements: 10.00 € per adult.
If you would like to book a specific room type or number, we will try our best to meet your wishes.
Rooms and suites can vary slightly from the given layouts and floor plans.
Check-in & Check-out
On the day of arrival, your room or suite is at your disposal – along with all the Taljörgele complimentary services – from 3 pm. If you arrive earlier, we will be happy to spoil you on the terrace or in the restaurant
If it is not possible for you to check in before 7:00 pm, please let us know in advance.
On the day of departure, we kindly ask you to vacate your room by 11 am.
In case of late arrival or early departure, the full room rate will be charged.
You are welcome to arrive any day of the week!
Single Occupancy Supplement
The supplement for single occupancy of a double room or suite amounts to 20% to 100% of the 3/4 board accommodation rate.
Birthday Packages
Happy Birthday! Treat yourself to a holiday at the Taljörgele and we will celebrate your special day by pampering you with a personalized table decoration and a birthday surprise.
Gift Vouchers
Whenever you want to tell someone special how much you care for them, remember that the Taljörgele vouchers mean happiness, emotions, fond memories, vitality, and well-being – all in a single gift!
Honeymoons
Newlyweds? Congratulations! Spend your honeymoon at our hotel and we will reward you with a bottle of sparkling wine and special table decorations.
Dogs
Small and medium-sized dogs are welcome subject to prior arrangement (daily rate: 20.00 € excl. food). We have specially designated rooms for guests with dogs.
Dogs are allowed in one restaurant stube and at the hotel bar (reservation required at the moment of booking).
Dogs are not permitted in all other areas of the restaurant, in the garden or in the spa.
Additional Paid Services
Drinks to order
Treatments and massages in the Vita Sana spa
Telephone in all rooms and suites
Non-Smoking Rooms
All our rooms and suites are non-smoking rooms!
Travel Insurance
We recommend taking out the Taljörgele travel insurance.
Price: 8.00 € per adult and day. (13 years or older at the moment of booking)
For more information about our trip cancellation insurance, see our fact sheet.
Cancellation Policy
In case you need to cancel your booking but have no travel insurance coverage, the following conditions will apply:
for cancellations up to 8 weeks prior to expected arrival: 50,00 € per cancelled room
for cancellations made 4 weeks prior to arrival: 20% of the amount of your booking
for cancellations made 4 weeks to 10 days prior to arrival: 50% of the amount of your booking
for cancellations made 10 days or less before arrival: 70% of the amount of your booking
No show or early departure: 100% of the amount of your booking
Payment Methods
Cash, VISA, Mastercard, Eurocard, debit card.
Bank details:
For guests from Italy and other countries:
Raiffeisenkasse Wipptal
IBAN: IT81E0818259110000300032247
SWIFT/BIC Code: RZSBIT21054
For guests from Germany and Switzerland:
Raiffeisenbank Mittenwald eG
Account number: 360708
Bank code number: 70169459