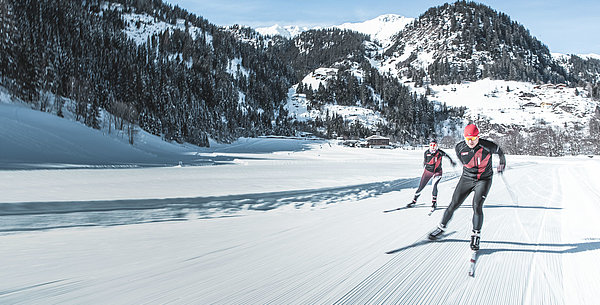 A Sense of Boundless Freedom
A Change of Perspective – Cross-country Skiing in Ridanna
The perfect sport for exercise and relaxation
On the one hand, it is a complete and intensive discipline; on the other, an exercise in harmony and balance. Discover the snow-filled landscapes of the Ridnauntal Valley on its many cross-country ski trails – enjoy contact with nature from a new perspective.
Nordic skiing through the Ridnauntal Valley
Meeting the mountain giants
With its quaint and rough-edged character, the Ridnauntal Valley is an ideal terrain for cross-country skiing. Breathe in the pure mountain air, enjoy the view of the snow-covered peaks and let your mind relax through balanced movements. The valley is blessed by long hours of sunshine, ensuring a pleasant cross-country skiing experience.
There are about 25 kilometers of trails, lined with numerous rest stops – some of which only a few meters from the hotel. A highly pleasurable way to discover the Ridnauntal Valley.
Our tip: cross-country skiing on the floodlit trails. A magical feeling!