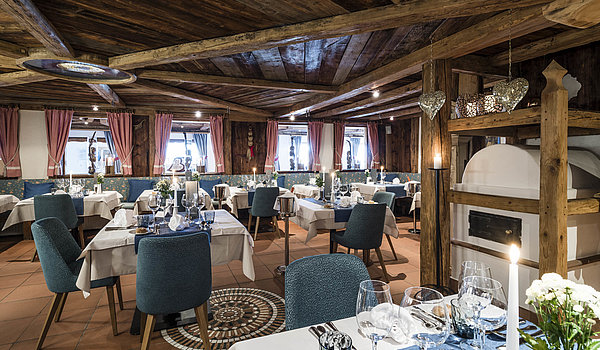 A Journey of Discovery into the Flavors of South Tyrol
Gourmet's Choice
...our restaurant in Ridanna
Four different dining rooms, the fine interplay of Alpine and Mediterranean flavors, and a balance between Tyrolean flair and modern design – our restaurant is a place for savoring every single moment!
South Tyrolean Cuisine
Alpine & Mediterranean – the best of two cultures
On one side, the traditional Tyrolean stube with the warm comfort of wood, and on the other the modern design and light colors of our new dining room. One hotel offers the best of two different worlds for you to experience. From the culinary perspective, this translates into hearty Alpine recipes paired with light, aromatic Mediterranean dishes. Chef Alexander Wild and his team invite you to discover the cuisine of South Tyrol – also available in gluten-free and lactose-free options.
Come in, have a seat, and enjoy!