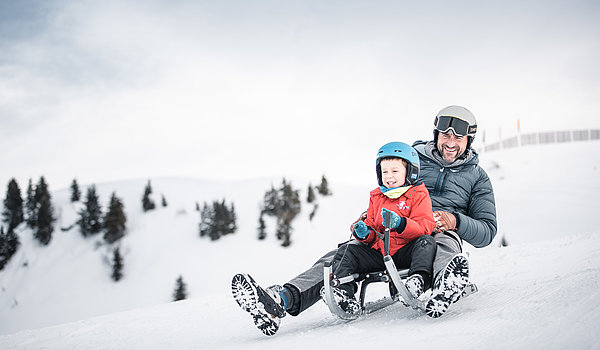 Storming Downhill
Family-sized Fun: Tobogganing in South Tyrol
Ready, set, go!
Plenty of runs and lots of fun for young and old: tobogganing in South Tyrol is a big favorite among families. A leisurely hike uphill, a hearty meal in a traditional mountain hut, and then a nail-biting descent downhill – a great activity for spending quality time with the family!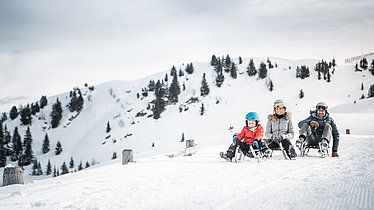 Toboggan fun at our hut Wurzelalm
Starting from our hotel you can arrive our hut in about 90 minutes. Enjoy a warm meal from the South Tyrolian kitchen or a classic "Glühwein" before starting the fun with the toboggans!
The Stadlalm Natural Run in Ridanna
The Stadlalm Run is a popular destination with families in particular. This approximately 1.5 kilometer long toboggan run is easy to tackle even for smaller children, and provides a delightful way back down to the valley after a pleasurable break in the mountain hut above.
The Reifenegg (Stange) Natural Run
This approx. 1 kilometer long natural run allows you to enjoy the charming winter landscape to the fullest. The path up to the starting point leads through snow-capped woods, and it is also possible rent toboggans directly at the run.
The Atscherwiesen (Telfes) Natural Run
Above the village of Telfes, a 1.5 hour walk leads to the Freundalm, where a varied trail of about 1.9 kilometers leads back downhill. The ultimate experience: a night-time ride on the floodlit run.
The Racines Natural Run in Racines di dentro
The starting point of the longest toboggan run in the holiday region of Racines is at an altitude of 1,850 meters and can be reached either by lift or on foot. What follows is five kilometers of pure fun! You can rent toboggans directly at the valley terminal of the lift.